Clothing the world during testing times
Share - WeChat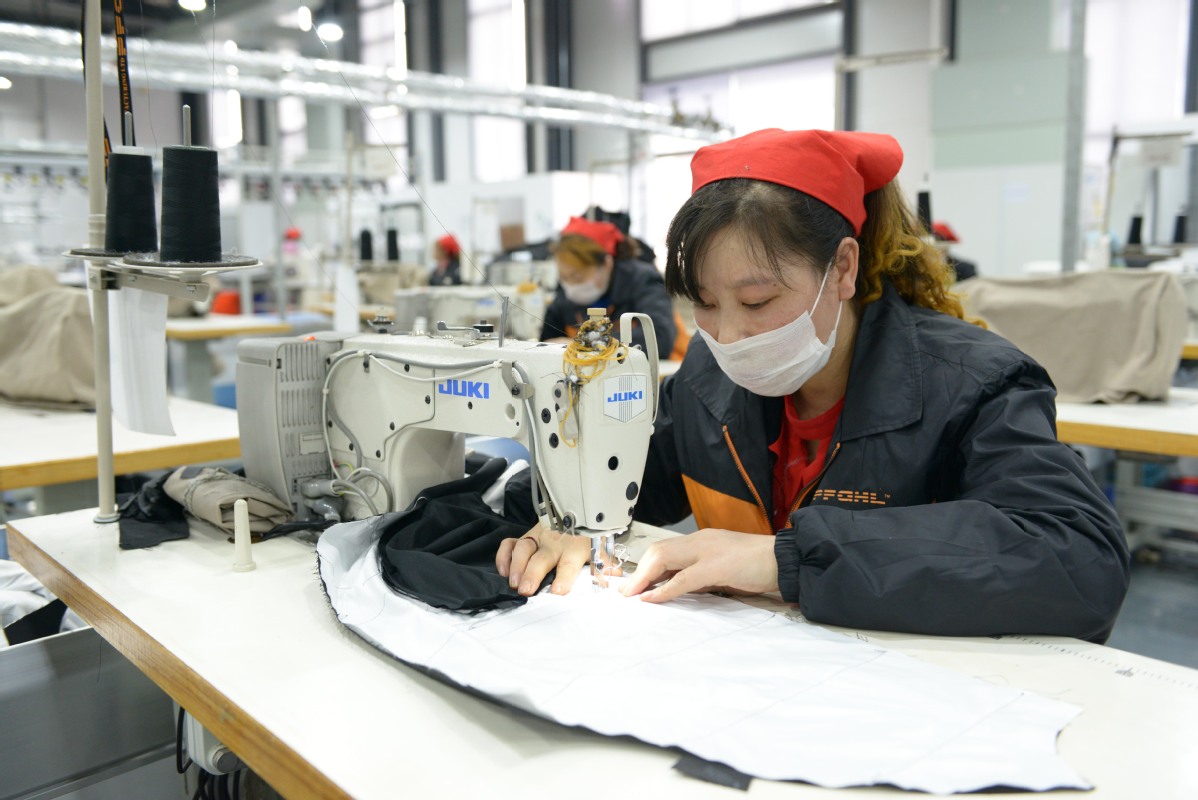 PFGHL's firm exports, solid supply chain, and flexibility help steady garment trade
When the economic effects of COVID-19 started to take a toll on China's textile and garment sectors, most of the players took a painful hit, but not Profits Fund Global Holding Ltd.
An exporter of 10 million pieces of clothing worth $400 million to the world annually, PFGHL Group leveraged its sales network spanning more than 20 countries and regions, swore by timely and clear communication with its stakeholders, adopted transparent trade practices, tweaked its production and shipments, and harnessed the full power of its vertical supply chain.
Its calm and strategic approach helped stabilize its business, besides aiding quick recovery and setting the tone, direction and future priorities of the garment industry in the post-pandemic era.
Hilmond Hui, vice-president of PFGHL, said, "We provide a full spectrum of services including textile production, dyeing, weaving, garment manufacturing and worldwide product delivery."
Despite having a sales network covering Canada, the United States, the United Kingdom, Italy, France, the Netherlands and Japan, the company's overseas sales declined this year due to the effects of COVID-19. "However, starting August, our overseas sales gradually picked up," Hui said.
PFGHL's exported garments are manufactured in China. The company has several production facilities in Sichuan, Guangdong, Zhejiang and Jiangsu provinces.
Hui said: "Communication and transparency enabled PFGHL and retailers to stay on the right track and overcome the (COVID-19) challenges like unforeseen financial and market situations. We had to split up shipments and slow production to adapt our supply chain to the situation."
Flexibility of certain facilities was crucial, he recalled. So is the ability to optimize the vertical supply chain.
"As more retailers and suppliers work to navigate the post-pandemic supply chain and plan for the availability of raw materials, vertical supply chain will be increasingly critical to improving flexibility, both financially and operationally."
According to Hui, the company's production base in Yilong county in Nanchong, Sichuan province, has relied on its seed-to-shelf vertical supply chain that spans mulberry planting, sericulture to garment manufacturing, sales and distribution.
Such elaborate arrangements are necessary in the modern age of globalized operations when stakes tend to be high, and the scale of the market massive.
Data from the General Administration of Customs showed that in July, China exported textile and clothing worth of $31.29 billion, up 7.79 percent on a monthly basis. In the first seven months of this year, total sales of the country's textiles and clothing rose by 5.57 percent year-on-year to $156.48 billion.
Owing to the epidemic effects, China's export value of textile and clothing declined in the early part of this year. The downtrend reversed later on, thanks to work resumption and tweaking of business strategy at textile enterprises such as PFGHL, industry experts said.
PFGHL also had the good sense to broad-base itself by setting up a subsidiary called Sichuan Bombyx Organic Agriculture Technology Co Ltd. This helped it to further localize its production.
Currently, the plantation area of Bombyx surpasses 1,333 hectares. Besides, the company recently acquired Ceres organic silk certification, an industry standard, for its mulberry trees and silkworm farms, becoming the first Chinese silk company to use regenerative principles.
PFGHL, the parent company, said it plans to further increase its investment in Bombyx, to create a one-stop vertical garment manufacturing supply chain that starts from mulberry planting, sericulture and extends to silk reeling, silk weaving, garment manufacturing, and finally export of clothes.
Senior industry expert Cheng Weixiong said: "A vertical supply chain is crucial for garment manufacturing companies to overcome difficulties and remain competitive during turbulent periods.
"During the epidemic, when the overseas situation greatly influenced enterprises' overseas operations, having a domestic vertical supply chain became increasingly important. A supply chain spanning production to sales enables enterprises to acquire raw materials and sell goods in the most convenient manner, offering them a solid chance to survive during difficult times.
"Many garment manufacturing enterprises that had overseas production links were forced to bring the links back to China, in order to reduce losses."
Agreed Hui: "We believe in the idea of owning an entire vertical silk supply chain, covering from seed to shelf. The environmentally friendly manufacturing system allows us to maintain sustainable silk at market value.
"The idea of a complex, diversified supply chain is an untenable risk. Partnering with vertical operations means quicker speed and more control over the supply chain management."
Hui noted that a key lesson learned from COVID-19 is that flexibility is now a top priority, as is transparency.
"The ability to keep tabs on where fabric and raw materials are at any given moment can now make or break a business. One of the main competitive advantages we have is a vertical advanced garment manufacturing solution with global reach and proven capabilities, providing clients from all over the world with large-scale, socially responsible textile production services," he said.