London and Brussels to extend trade talks
Share - WeChat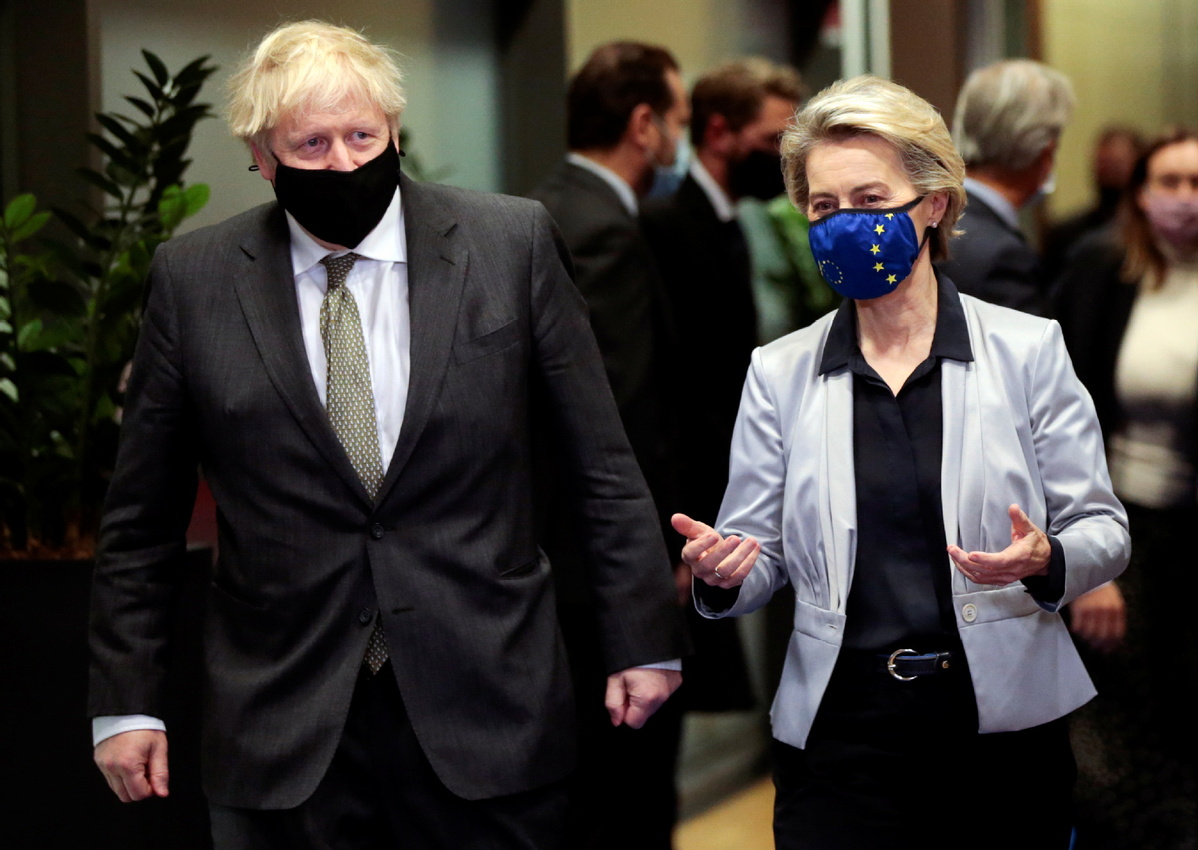 Britain's Prime Minister Boris Johnson and European Commission President Ursula von der Leyen said on Sunday that talks on a post-Brexit trade deal will continue, after negotiators from the United Kingdom and the European Union worked through Saturday night into Sunday morning to try and overcome remaining obstacles.
Johnson and von der Leyen spoke with each other by phone on Sunday. After the call, von der Leyen told reporters in Brussels that both sides want the talks to continue to "see if an agreement can be reached, even at this late stage".
Earlier in the week, they had agreed that Sunday would be the deadline for negotiators to make a breakthrough.
In a joint statement, Johnson and von der Leyen said they think it is "responsible at this point to go the extra mile".
The decision to extend talks on Sunday implies there was some progress with negotiations overnight and that a deal remains possible.
Talks have remained in deadlock over fishing rights and the so-called "level playing field" that the UK government says would effectively tie Britain to future EU standards.
Foreign Secretary Dominic Raab had said earlier on Sunday that the deadline might be extended.
Speaking on the BBC's The Andrew Marr Show, he said: "The bar is quite high for us to continue to keep talking, we would need at a political level a commitment to move on those two key issues," Raab said.
Asked about the latest situation on Sky News's Sophy Ridge on Sunday, Raab said there is "still a long way to go" but insisted the government does "want to get a deal if it's at all possible".
"We want to be treated like any other independent self-respecting democracy. If the EU can accept that at a political level, then there's every reason to be confident but there is still, I think, a long way to go," he said.
On the same program, Spanish Foreign Minister Arancha Gonzalez Laya retorted to Raab's comments, saying, "A trade deal is not made to assert one's independence but to manage our interdependence."
Earlier, British government sources were quoted by news agencies as saying the EU's offer "remains unacceptable", meaning a no-deal outcome is looking more likely.
Such an outcome is predicted to cost jobs and force food prices to increase when the UK ends its transition period and exits from the EU single market and customs union on Dec 31.
A no-deal outcome would also damage the economies of Europe, shock financial markets, cause delays at borders and likely create problems for supply chains across Europe and beyond, Reuters noted.
The Sunday Telegraph has reported that UK Cabinet ministers are planning a multibillion-pound bail-out package to support its industries that would be hit by a no-deal Brexit.
The newspaper said the proposals include "resilience" deals for sheep farmers, fishermen, car manufacturers and chemical suppliers who face trade disruption or EU tariffs after Jan 1. Sources said the package is expected to involve up to 10 billion pounds ($13.3 billion) of funding.